Official Kanban Training – LKU
We deliver the true Agile experience
Kanban + Value Flow + Continuous Flow + Metrics
In two days, you will practice the concepts of Kanban and will learn how to overcome challenges.

WHAT OUR STUDENTS SAY ABOUT US
This brief email to share with you the pleasure of being now a certified scrum master, and also tell you again how much your program was inspiring and how it gave me lots of thoughts.
Thank you, and I look forward to meeting with you.
Thank you so much for the great training class.
I loved the experiences you shared, I am trying to use some of them in my personal and professional life.
Also, I have completed the CSM test and received the certification.
Thank you for a wonderful class. I took the exam on Saturday and passed 100 was my score!
Thank you for the class! It was a last minute decision and I'm so glad I did. You managed to fulfill the scrum requirements but also impart such valuable business knowledge. I was able to pass the test with 100%. I will be forever grateful.
All the best to you and your company!
WHAT IS INCLUDED
2-day Kanban In-person Course

Breakfast, lunch, snacks and beverages provided on both days of training
AFTER THE COURSE YOU'LL RECEIVE
Life-Time Lean Kanban University's KMP Foundation I certification.

16 SEUs from the Scrum Alliance.
RE-TAKE THE COURSE LATER AT NO CHARGE
Get twice the value – attend again for more depth or to get a different perspective
WHY KANBAN WITH KNOWLEDGE21?
Knowledge21 is a global organization, present in the United States, Europe and Latin America, focused on Digital Transformation of companies willing to embrace True Agile practices.
Our classes are dynamic, engaging and based on real scenarios. We do prefer group discussions and creative thinking over the traditional slide-based lecture. We provide an environment that facilitates the exchange of experiences between students and with the trainer.
In two days, you will practice the concepts of Kanban and will learn how to overcome challenges, such as
Development and maintenance of different products

Extending Agile for the whole organization
Come and discover why more and more people are applying KANBAN, even those that already apply SCRUM!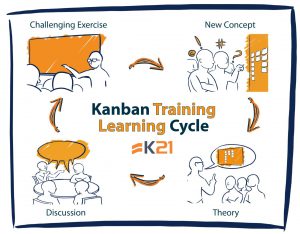 The theory always comes after practicing, in a "pull system for teaching".
WHAT WILL YOU LEARN DURING THE CLASS?
What is Kanban?
Lean and Toyota Production System
Visual Management
Physical board vs. Digital board
Metrics
Throughput, Lead Time, Cycle Time
Limited WIP (Work In Progress)
Coordination techniques (slack, swarm etc.)

Physical board vs. Digital board
Managing capacity
Demand classification and balancing
Value Flow
Mapping the value from (upstream and downstream)