Right from early childhood, we've become used to receiving compliments and praise. We start listening only to people who admire our work and inflate our ego. Praise is welcome, but it doesn't reveal points we could use to improve our product, process, our professional or personal lives. What we really need is good feedback.
Seeking good feedback
I worked for a company whose product was used by thousands of internal and external users. This product was build based on the opinions of just a few dozen internal stakeholders.
After a time, the Team noticed that these stakeholders requested fewer and fewer alterations and only gave praise. Puzzled, they put a link in the product's main function to a questionnaire with one open question: "What problem have you encountered in doing this function?".
With the word "problem", they made it clear they weren't fishing for praise. The result of the questionnaire was the complete overhaul of the site, the icon and even the alteration of the product's principal flow.
This example can be applied to professional life. We usually wait passively for a manager or our Team to provide feedback. When was the last time you asked someone: What problems do you notice in my work? What were the expectations I was unable to meet? How could I have helped you? The answers to these questions may be tough, but they're what will afford continuous improvement in your professional life.
I received feedback. What do I do?
The points of attention in feedback are like gifts received. You can put them on the back of a drawer and never use them, or incorporate them into your life. Should you go for the latter option, create your own Feedback Backlog. Describe the problem you wish to resolve, the objectives you wish to achieve and the metrics which will indicate you're on the right path. List and prioritize actions which will allow you to achieve your objective, then execute, evaluate and adapt.
While I was in the role of Agile Coach, I got feedback indicating that my voice was too deep and difficult to understand. Some people looked puzzled whenever I spoke. Others would ask: "What did you say?", "What?", "Huh?"…
Based on this problem, I set the objective: Increase my communications skills. The aim was to eliminate the above questions before the start of the Rio Scrum Gathering when I'd be taking part in the Coaches Clinics.
I knew it wouldn't be an easy task and I sought the professional help of a phonologist. I followed the progress of the action by counting the times someone didn't understand what I'd said and asked me to repeat it. The following graph shows the evolution and how I achieved my objective.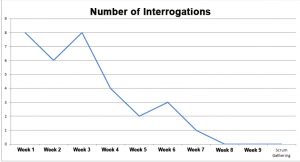 If all you receive is praise, it's time to get feedback which will enable you to improve your professional or personal life.
Like this article? Share your opinions with us by leaving a comment on this topic. Want to know some techniques about how to give and receive feedback? Then sign up for our Management 3.0 courses.