Although the fact that good feedbacks may lead to high-speed human development was already proven many times, companies still neglect this practice, making it extremely formal, bureaucratic and expensive.
A process that should be simple and continuous often happens to be annual or semiannual, conducted by people not knowing the nature of the work performed by the team, ignoring the difficulties and challenges faced on daily basis.
One of the practices to fight this dysfunction, which is gaining more and more followers, is the implementation of horizontal feedbacks. It means that team members are responsible for talking to each other, and contributing to each other's ongoing improvement as individuals and professionals. Most important benefits of this practice are:
increase of empathy, compassion and respect among the team members – it creates a stronger connection between people;

communication improvement – it provides noise reduction since there are no information overloads;

conclusions are more concrete, as provided between teammates;

reduction of staff turnovers – it's helping in creative workers retention;

creation of pleasant work environment for people to face constant self-development;

it brings greater engagement.
SpeedWraps
Speedwraps is an excellent dynamics, that aims to create a safe environment so that members of a team can exchange feedbacks in a simple, open and honest way. It respects the principles of nonviolent communication, such as favouring effective communication through empathy and supporting the expression of feelings and needs rather than critiques or value judgments.
I created Speedwraps with the purpose of encouraging the practice of "feedback as a gift", in the form of cards exchange between members, shortly after the conversation. The cards were inspired by Management3.0's Feedback Wraps practice, and their purpose is to support and encourage the process from feedback preparation to its transmission.
They are composed of five important steps:
Describe your context: describe your environment, mood and expectations;

List your observations: report the observed facts or experiences that led to the conversation;

Express your emotions: how did you feel about those facts and experiences;

Explain the value: share the added value or the need to amend something in observed facts and experiences;

Finish with suggestions: provide helpful suggestions in a positive way and offer assistance.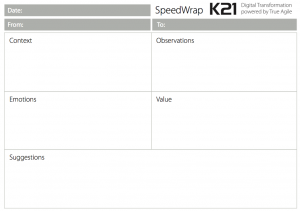 How it works
This dynamic is very simple. Make sure that a facilitator will take care of the following aspects:
Team preparation:
Explain the dynamic to the team. 

Teach basic concepts about giving and receiving feedback;

Make sure that everyone involved wants to participate in the momentum. For this, you can use some facilitation technique in which people express themselves anonymously. If at least one of them does not feel comfortable, postpone the dynamics and work to make them feel comfortable at another time;

Encourage the writing of a Speedwraps cards

for each member of the team, since in the session everyone will exchange feedbacks with each other;

Combine the timebox that will be used by each pair to give and receive feedback. Example: we have six minutes per pair, of which three minutes are to speak and three minutes to listen attentively;

Schedule the day, time and place of the meeting.
Environment preparation:
Organize a quiet place where people can talk undisturbed;

Arrange the chairs, so that they are in pairs, facing each other, to determine greater eye-contact facilitating the interaction. One of the easiest ways to do that is placing the chairs in two rows fronting each other. In the event of the odd number of participants, reserve a chair in a separate place to serve as a waiting point;

Locate the timer in a place visible for everyone, so that each person will be able to track the duration of each round of the feedback.
Participants position and directions of the conversations with one person waiting.
Facilitator running the dynamics:
Receive the team in the scheduled place with the already prepared environment;

Invite people to accommodate on the chairs;

Remind them of the dynamics rules, the chair rotation, and timing of each conversation.
The same movement with a waiting person.
A few more tips
As a facilitator, after the first speedwrap meeting, I usually form a circle with all of the participants and make a final reflection. I talk about the importance of the meeting and how using this tool can help to create/enhance the culture of horizontal feedbacks.
I conclude by encouraging participants to provide a feedback about the dynamics and, if they feel comfortable, to share how they felt during the process. I always try to make them feel comfortable. The reports are often surprising.
Now that you know Speedwraps and the importance of horizontal feedback for team building and development, what do you think about providing a special and empowering encounter within your organization?
Feel free to contact us. Check out our Blog.