{{ dataComAno }}
9:00 – 17:00
LOCATION
{{ endereco[0] }}
{{ endereco[1] }}
{{ endereco[2] }}
{{ endereco[3] }}
{{ endereco[4] }}
Early Bird: {{ preco.earlyBird }}
Full Price: {{ preco.fullPrice }}
TRAINER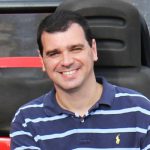 Certified Enterprise Coach (CEC), Certified Scrum Trainer (CST), Certified Team Coach (CTC) and Scrum@Scale Trainer
Marcos Garrido is a Certified Scrum Trainer (CST), Scrum@Scale Trainer and Certified Enterprise Coach (CEC) – he is part of a select group of 34 people all over the world holding the two most important Scrum Alliance certifications. Marcos travels all over the world to help companies to learn about Agile and he has vast experience in product management.
We deliver the true Agile experience
DESCRIPTION
Master your Product Owner skills, learning from a trainer with global experience. Get your CSPO in a dynamic, interactive, hands-on and engaging class by discussing real scenarios and paradigm shifts. Be prepared to succeed in your Agile career and increase the Return on Investment of your products and services.
Product Owners are the ones responsible for defining your product strategy. Great Product Owners know how to design and share the vision efficiently, manage the Product Backlog and collaborate with the Team to maximize the Return on Investment of your products and services. We'll cover concepts such as Lean Startup, product metrics, strategy, how to write user stories, do backlog management techniques, prioritization techniques, etc
This is an official Scrum Alliance Training Course.

WHAT OUR STUDENTS SAY ABOUT US
This brief email to share with you the pleasure of being now a certified scrum master, and also tell you again how much your program was inspiring and how it gave me lots of thoughts.
Thank you, and I look forward to meeting with you.
Thank you so much for the great training class.
I loved the experiences you shared, I am trying to use some of them in my personal and professional life.
Also, I have completed the CSM test and received the certification.
Thank you for a wonderful class. I took the exam on Saturday and passed 100 was my score!
Thank you for the class! It was a last minute decision and I'm so glad I did. You managed to fulfill the scrum requirements but also impart such valuable business knowledge. I was able to pass the test with 100%. I will be forever grateful.
All the best to you and your company!
WHAT IS INCLUDED
2-day CSPO In-person Course

Breakfast, lunch, snacks and beverages provided on both days of training

2-year Membership to Scrum Alliance
AFTER THE COURSE YOU'LL RECEIVE
Payment of your first two year dues for the Scrum Alliance

All slides and material used during the training

16 SEUs from the Scrum Alliance.
RE-TAKE THE COURSE LATER AT NO CHARGE
Get twice the value – attend again for more depth or to get a different perspective
WHAT WILL YOU LEARN DURING THE CLASS?
The two days (16 hour) CSPO course is focused on the Product Owner role. Immersed in group discussions, group assignments, real life cases and group dynamics, you will learn:
What a Product Owner is and is not

What a Product Owner does and does not

Responsibilities of a Product Owner

Main virtues of a great Product Owner

Maximization of value delivered to your customers
How to write effective User Stories

How to prioritize your Product Backlog to maximize the ROI

ROI calculation (Return on Investment)

Lean Startup and Agile techniques such as MVP and Validation Board
WHY KNOWLEDGE21?
We are a global organization, present in Latin America, United States and Europe, focused on digital transformation of companies willing to become more Agile.
Knowledge21's classes are dynamic, engaging and based on real examples. We do prefer group discussions and a lot of interactions over a slide-based lecture. We provide an environment for the exchange of experiences between the students and the trainer.