{{ dataComAno }}
9:00 – 17:00
LOCATION
{{ endereco[0] }}
{{ endereco[1] }}
{{ endereco[2] }}
{{ endereco[3] }}
{{ endereco[4] }}
Early Bird: {{ preco.earlyBird }}
Full Price: {{ preco.fullPrice }}
TRAINER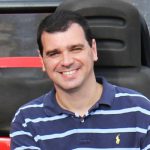 Certified Enterprise Coach (CEC), Certified Scrum Trainer (CST), Certified Team Coach (CTC) and Scrum@Scale Trainer
Marcos Garrido is a Certified Scrum Trainer (CST), Scrum@Scale Trainer and Certified Enterprise Coach (CEC) – he is part of a select group of 34 people all over the world holding the two most important Scrum Alliance certifications. Marcos travels all over the world to help companies to learn about Agile and he has vast experience in product management.
We deliver the true Agile experience
DESCRIPTION
The most innovative companies in the world already learned that True Agile practices are a game changer in a competitive business landscape. More and more companies are sunsetting project management practices and embracing the Agile mindset in a way to stay competitive and relevant. Never in history, the pace of change was so fast.
That's the right moment to take a career turn.
The Certified ScrumMaster class can boost your career, allowing you to act as a change agent, bringing agility to the corporate environment. If you are a Project Manager looking for the next steps in your career, learning Scrum is what you need to make your experience count. Linkedin is full of job opportunities for Agile Coaches and ScrumMasters.
Attend the CSM class and learn how to:
Transition from Project Management to Agile;
Build self-organizing and collaborative high-performing teams;
Act as a change agent in your organization;
Guide your company through the Agile Transformation process;
Implement Scrum effectively;
Deliver more value in less time;
Remove bottlenecks and reduce dependencies;
Use continuous improvement to create a learning organization
Master your Scrum skills, learning from a trainer with global experience. Get your CSM in a dynamic, interactive, hands-on and engaging class by discussing real scenarios and paradigm shifts.
A Certified ScrumMaster® aims to become an expert in Scrum, by being knowledgeable about values, principles, practices, and techniques, taking Scrum Teams to the next level. Come and Join Us.
WHAT OUR STUDENTS SAY ABOUT US
This brief email to share with you the pleasure of being now a certified scrum master, and also tell you again how much your program was inspiring and how it gave me lots of thoughts.
Thank you, and I look forward to meeting with you.
Thank you so much for the great training class.
I loved the experiences you shared, I am trying to use some of them in my personal and professional life.
Also, I have completed the CSM test and received the certification.
Thank you for a wonderful class. I took the exam on Saturday and passed 100 was my score!
Thank you for the class! It was a last minute decision and I'm so glad I did. You managed to fulfill the scrum requirements but also impart such valuable business knowledge. I was able to pass the test with 100%. I will be forever grateful.
All the best to you and your company!
WHAT IS INCLUDED
2-day CSM In-person Course

Breakfast, lunch, snacks and beverages provided on both days of training

Exam Fee for CSM Certification

2-year Membership to Scrum Alliance
AFTER THE COURSE YOU'LL RECEIVE
Qualification for taking the ScrumMaster Certification exam.

Payment of your first two year dues for the Scrum Alliance

All slides and material used during the training

16 SEUs from Scrum Alliance.
RE-TAKE THE COURSE LATER AT NO CHARGE
Get twice the value – attend again for more depth or to get a different perspective
EXAM DETAILS
The CSM exam is taken online and sent via email Scrum Alliance. You have 90 day access to take the exam and 2 attempts towards passing. The exam is in multiple choice format.
99.1% of our students pass the CSM exam and you also have a second chance to pass if you need.
WHAT WILL YOU LEARN DURING THE CLASS?
Get your Certified ScrumMaster certification (CSM) in a 2-day (16-hour) course focused on consolidating Scrum values and practices. Immersed in group discussions, group assignments, real life cases and group dynamics, you will learn:
Building successful and productive teams

Agile Culture values and principles

The Agile Manifesto

Scrum roles and responsibilities

Sprint planning, execution, review and retrospectives

Agile requirements analysis

Facilitation Techniques to use on a daily basis

Estimating and prioritizing product backlogs
Definition of Ready / Done

Acceptance Criteria

User Stories

Scrum in large organizations

Dealing with organizational impediments

Myths and Facts of Agile / Scrum

Team Building techniques
We are a global organization, present in Latin America, United States and Europe, focused on digital transformation of companies willing to become more Agile.
Knowledge21's classes are dynamic, engaging and based on real examples. We do prefer group discussions and a lot of interactions over a slide-based lecture. We provide an environment for the exchange of experiences between the students and the trainer.