{{ dataComAno }}
9:00 – 17:00
LOCATION
{{ endereco[0] }}
{{ endereco[1] }}
{{ endereco[2] }}
{{ endereco[3] }}
{{ endereco[4] }}
Early Bird: $349
Full Price: $549
TRAINER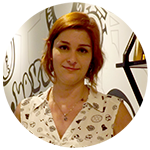 Andressa Chiara
Andressa Chiara is certified as CSP, CSM, CSPO, KMPI, Mgmt3.0 and is an innovation enthusiast of an unusual background. Being a Film bachelor, she has learned the hard lessons of delivering results with tight budgets and having to adapt in harsh unforeseen circumstances. Creating digital products in the technology market since 2008, Andressa specialized in business value maximization, design thinking techniques, lean startup, goal-oriented team building and building bridges between businesses and customers through top-level delivery.
We deliver the true Agile experience
DESCRIPTION
The most innovative companies in the world already learned that True Agile practices are a game changer in a competitive business landscape. More and more companies are sunsetting project management practices and embracing the Agile mindset in a way to stay competitive and relevant. Never in history, the pace of change was so fast.
WHAT WILL YOU LEARN DURING THE CLASS?
Efficacy Metrics:

Customer Happiness
NPS
Pirate Metrics: AARRR
Data funnel

Tools:

Analytics
CrazyEgg
HotJar(Heatmap)
Optmizely
KISSmetrics
Internal satisfaction or climate or happiness metrics:

Happiness index
Employee Engagement Survey
Level of autonomy
Merit money
Efficacy Metrics:

Lead time
Frequency of delivery
Efficiency rate
WIP
Quality metrics or technical quality metrics:

% of test coverage
Standardization
WHY KNOWLEDGE21?
Knowledge21 is a global organization, present in the United States, Europe and Latin America,
focused on Digital Transformation of companies willing to embrace True Agile practices.
Our classes are dynamic, engaging and based on real scenarios. We do prefer group
discussions and creative thinking over the traditional slide-based lecture. We provide an
environment that facilitates the exchange of experiences between students and with the
trainer.